Exotic robotics defined by the CYCOGS® brand, Medium Sized Robot (MSR™)
The CYCOGS® Medium Sized round Robot (MSR™) is a heavy duty, full featured independent robotic system.
It is self-contained, battery powered holonomic movement capable mobile robot featuring several of our (CPS) Cyber-Physical Systems.
based on our patented technology. This also incorporates our
Hi2WAM™
and
Wheel Assembly (WA™)
,
Compact Gear Motor (CGM™)
drives and our
RESS™
emergency safety systems.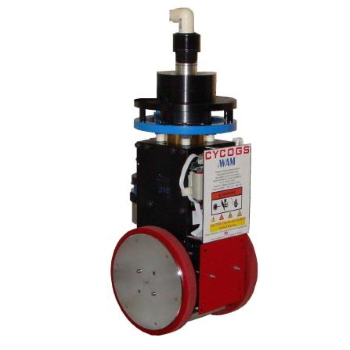 The lower part of the MSR™ robot is the robot base,
housing a six-wheel drive system separated into three Holonomic intelligent active suspension drive modules (Hi2WAM's).
The robot base additionally provides room for
three huge exchangeable battery bays
.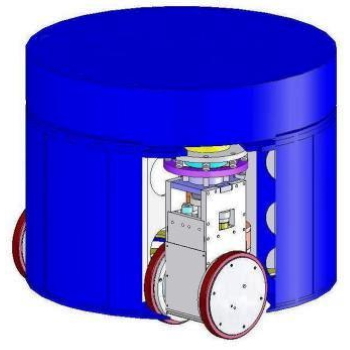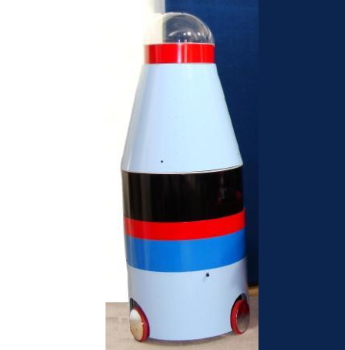 The mid section contains a modular sensor ring (SRing™ showed in red),
two Hybrid Snake Arm systems (SNARM's) creating a huge working envelope and strong load capacity.
The two independent rotary positional modular hybrid snake arms (HYSA
™
/ Snarm
™
) (Illustrated extended in an over and under configuration) provide manipulator capability. Please note: absolute positioning and repeatability specifications are not comparable to traditional fixed industrial arms, as the compliant arms and connectivity to a mobile platform with an active suspension on possibly uneven flooring may make precise arm operations less accurate.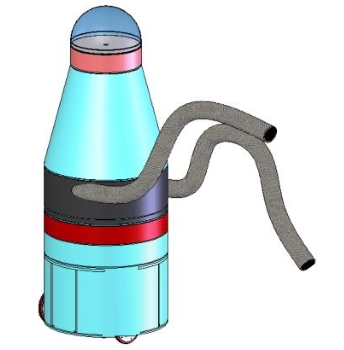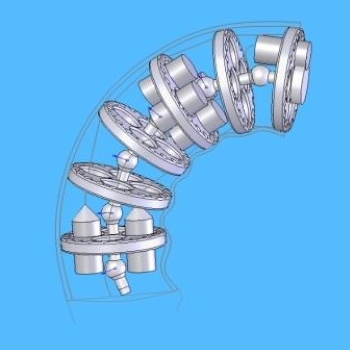 An upper chassis section contains electronics and computers and a modular sensor ring (SRing™ showed in red).
For sensing, the CYCOGS® MSR™ robot uses the two modular sensor rings (SRing™ showed in red) which are capable of rotary position placement, track, scan and rotation movements.
Additionally, the two rotating sensor arrays (SRing) provides primary sensor coverage employing fewer, but more capable sensors. Using two primary sensor arrays allows for stereoscopic vision / sensing with "
Eyes Everywhere
" and allows for following and guiding each of the two independently operating hybrid snake arms.
Please note that both the
modular SRing
and
Snarm systems
are capable of continuous direction independent rotations.
The MSR autonomous robot is medium sized, yet it can still maneuver through a majority of doorways. Applications can vary, the robot is designed to perform work or services.
| CYCOGS® MSR™ | | Robot design Specifications: |
| --- | --- | --- |
| Chassis: | | Aluminum |
| Diameter: | | 700mm (27.5") |
| Height: | | 1900mm (75") (mid-lift position) |
| Ground Clearance: | | 50mm (2") (mid-lift position) |
| Estimated Weight: | | 300kg+ (660 lbs.+) |
| Per Snake Arm Max Reach: | | 2M (6.6') |
| Per Snake arm envelope: | | 360 degrees, spanning the robot body to the floor to over the top of the robot. Unlimited Rotation. |
| Per Arm Max Load: | | 100kg (220 lbs.) |
| Max. Robot Payload: | | 230kg (507 lbs.) 2 arms 100kg load each + 30kg |
| Battery Power: | | Three packs, 48V each |
| Wheel Diameter: | | 200mm (8") |
| Peak wheel motive power: | | All six wheels, 12,000 watts or approximately 16Hp. |
| Dynamic Load: | | Capacity per Wheel Assembly Module 455kg (1,000lbs) |
| | | |
The
CYCOGS
®
MSR
™
Medium Sized Mobile Robotic System remains a large project under active development and not yet available at this time. Select subsystems are available for potential purchase. Advanced orders may be accepted, please
contact sales
for more specific information.
Sales E-mail:
sales@CYCOGS.com
Anticipated uses of the MSR include a nursing assistant, home care assistant, security, warehouse picking and inventory, materials handling and transport, towing, cleaning, and some light assembly among other tasks.
Please note:
The
CYCOGS
®
MSR™ system
is not waterproof or properly made for extended outside use or in wet or condensation prone environments. In addition, the MSR system should not be operated in an excessively dusty or combustible or other hazardous environments. Although the MSR systems movements may result in unexpected movements, personal and property damage may occur if used in an unsafe fashion or unsuitable environment. Proper end-user design, operation, safeguarding, programming and training, among other safe operation tasks and safety procedures are recommended and remains the end-user's responsibility. OEM manufacturers and other purchasers of
CYCOGS
products and systems, as the purchaser, assumes responsibility and potential liability for safe implementation and use of these
CYCOGS
products and systems.
Please contact us if you have additional questions or
application needs.
Sales E-mail:
sales@CYCOGS.com
Please
contact us here
at the
CYCOGS
Company if you encounter additional questions or environmental application needs. The
CYCOGS
®
MSR
™
project is under ongoing development and offered in advance as a customized manufactured system; Standard models may not yet be available at this time. As the
CYCOGS
development effort in core technology and key concepts continues, the
CYCOGS
®
Company reserves the right to progressively change some specifications and data or is not available or suitable for widespread dissemination for all products. Pre-production information is not fully available for some specific products at this time. Sensors, customizations and other integrations may result in an additional cost.
For a story about the
CYCOGSMSR™
,
please see its story
here.
Liability Disclaimer:
The
CYCOGS
Company is not liable for the use, installation, performance or fitness of this component or system. Your purchase properly indicates you fully assume the risk of its proper use and its subsequent installation and
end user training
and potential liability. The
CYCOGS
Company patented intellectual property is strictly enforced and carefully protected. The
CYCOGS
Company warranties
the systems it sells from component defects or hardware failure for the period of one year after completing the purchase.
Please specify your design requirements for our Exotic robotics as defined by the
CYCOGS
®
brand, Medium Sized Robot (MSR
™
) for quotes and purchase. Advanced orders may be accepted, please contact
CYCOGS
sales for more information.
Sales E-mail:
sales@CYCOGS.com
The
CYCOGS
®
Company is a privately owned, 100% American company and is based in the state of Wisconsin.
The
CYCOGS
OEM engineered products and systems are carefully designed, made, built and assembled in the state of Wisconsin, USA.
The CYCOGS®
Company strives to intentionally use American domestic components whenever possible. Some of the key components may be sourced from the only available manufacturer, which may be owned, created or delivered from other countries.
Sales E-mail:
sales@CYCOGS.com
Support E-mail:
support@CYCOGS.com