Experience using the CYCOGS® brand, awesome modular Electric Wheel Assembly (WA™)
Overview:
The WA provides driving force and supports 1,000 lb. loads.
Applications include robot drives
for robot bases, AGV's, electric motorized carts, and mobility drives for wheel chairs, light fork lifts.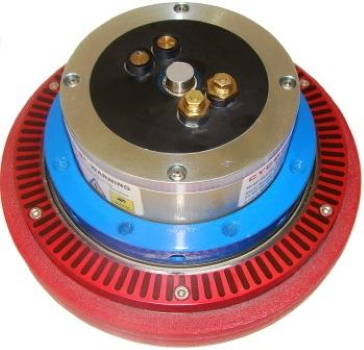 1. Compact:
Self-contained with an integrated, hi-tech motor and built-in gear reduction. No axle, no transaxle, no large external gears required. Since the axial length of the
CYCOGS
WA is less than 4 inches, your design will support more volume and design room compared to transaxle designs which encompass most or all of the vehicle's width. For example, batteries could be placed where the transaxle usually resides, resulting in a lower center of gravity (CG).
2. Modular & Scalable:
For a minimum configuration,
install one WA
as the drive wheel in the front with two idler wheels in the rear in a triangle / forklift configuration. For any configuration, bolt-on one or more WA modules to increase the drive force and load capacity where needed.
3. Off-Center Wheel Spacing:
No need to design and integrate a precisely aligned drive train system. Our Wheel Assembly (WA's) do not require the wheels to be located on a conventional axle center line, like other designs such as fixed shaft transaxles that require the wheels to be inline, coincident, and directly across from each other.
4. Bolt-on:
Engineering and assembly are already complete. Our WA includes one load-bearing, simple mounting bracket per wheel with two bolt faces and tangential mounting option, ready to bolt-on to your vehicle's chassis. Next, simply connect the wires from your motor controller amplifier to the motor. By comparison, transaxle designs typically require three mounting brackets at precisely aligned mounting points. Encoder marks for measuring wheel movement are built into the design.
5. Regenerative Braking:
Our unique gear reduction drive system can employ the regenerative braking effect to recoup the vehicle's kinetic energy during braking, depending on your controller.
6. Energy Efficient Tire:
Semi-hard polyurethane tire for indoor use has lower rolling resistance than an air or foam filled tires. Lower rolling friction equates to less power consumption. The indoor red tread increases visibility for safety purposes. (Please contact us for outdoor applications.)
7. Minimum Ground Clearance:
Low-profile vehicle designs are possible using our WA, but nearly impossible with most other axle designs.
8. Energy Efficient Weight:>
Our hub-based wheel design replaces the heavy and bulky axle designs. Less weight means lower power consumption and larger vehicle payload. Our integrated design embeds the 25-to-1 hypocyclic redundant gears and wheel bearing inside the wheel eliminating much of the weight, volume, and rotating parts associated with other designs. For example, most transaxle designs use generic, heavy gears and heavy lower efficiency low-tech electric motors.
9. Energy Efficient Hi-Tech Motor:
The WA motor is capable of producing high power near 2000 watts for brief periods. The lightweight, low inertia armature in the WA's motor offers extremely high acceleration rates, and it requires less energy than most other motors to accelerate or decelerate. The light-weight non-ferrous disk motor is capable of constant torque throughout its rpm range. Because the WA motor can deliver full torque at zero rpm, it does not need the higher gear reduction ratio that standard motors require. When other wheel drives require more speed, the motors must operate at a higher rpm than the WA motor, resulting in a higher gear reduction ratio, and are subject to more friction, heat, vibration, noise, and lost efficiency.
10. Engineered & Assembled in the USA:
The
CYCOGS® Company, as an OEM,
strive to intentionally use American domestic components whenever possible. Design protected in our patents.
Please note:
The
CYCOGS
®
WA
™
system is not waterproof or properly made for extended outside use or in wet or condensation prone environments. In addition, the WA system should not be operated in an excessively dusty or combustible or other hazardous environments. Although the WA systems
movements may result in unexpected movements
, personal and property damage may occur if used in an unsafe fashion or unsuitable environment. Proper end-user design, operation, safeguarding, programming and training, among other
safe operation tasks
and safety procedures are recommended and remain the
end-user's responsibility
. OEM manufacturers and other purchasers of
CYCOGS
products and systems, as the purchaser, assumes responsibility and potential liability for safe implementation and use of these
CYCOGS
products and systems.
Please contact us here at the
CYCOGS
Company if you encounter other questions or environmental
application needs.
Sales E-mail:
sales@CYCOGS.com
The
CYCOGS
WA
™
project is under ongoing development and offered in advance as a customized manufactured system; Standard models may not yet be available at this time. As the
CYCOGS
development effort in core technology and key concepts continues, the
CYCOGS
Company reserves the right to change some specifications and data or is not available or suitable for widespread dissemination for all products. Pre-production information is not fully available for some specific products at this time. Sensors, customizations and other integrations may result in an additional cost.
Liability Disclaimer:
The
CYCOGS
Company is not liable for the use, installation, performance or fitness of this component or system. Your purchase properly indicates you fully assume the risk of its proper use and its subsequent installation and
end user training
and potential liability. The
CYCOGS
Company patented intellectual property is strictly enforced and carefully protected.
The
CYCOGS
Company
warranties
the systems it sells from component defects or hardware failure for the period of one year after completing the purchase.
Please specify your design requirements for quotes and purchases and you can experience using the
CYCOGS
®
brand, awesome modular Electric Wheel Assembly (WA
™
) Advanced orders may be accepted, please contact
CYCOGS
sales for more information.
Sales E-mail:
sales@CYCOGS.com
The CYCOGS®
Company is a privately owned, 100% American company and is based in the state of Wisconsin.
The
CYCOGS
OEM engineered products and systems are carefully designed, made, built and assembled in the state of Wisconsin, USA.
The
CYCOGS
Company strives to intentionally use American domestic components whenever possible. Some of the key components may be sourced from the only available manufacturer, which may be owned, created or delivered from other countries.
Sales E-mail:
sales@CYCOGS.com